Angry Bunny's Easter Egg-splosion! for iPhone & iPad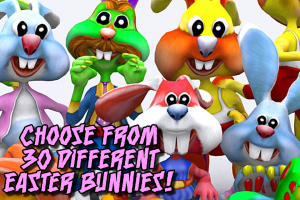 HELP THE ANGRY EASTER BUNNY EGG THE NAUGHTY KIDS!
From the makers of Angry Santa's Christmas Revenge, comes Angry Bunny's Easter Egg-splosion!!
Easter Bunny is ANGRY! He's a little sick of traveling the world hiding delicious Easter eggs in the gardens of ungrateful so-and-sos, all by foot, when Santa has it so easy simply throwing presents from his sleigh!
So the Easter Bunny has stolen Santa's sleigh, powered it with chickens, and he's out for revenge!
Help Angry Bunny have an easy Easter by dropping delicious chocolate eggs for the good kids to find, and dropping ROTTEN EGGS for the naughty kids!
Deliver naughty and nice, along with different coloured eggs and more. But remember, you have to reach your quota before sunset! That's when Angry Bunny really begins to twitch…
Features
- Fabulously fun 3D cartoon style graphics.
– Easy pick up and play controls, simply touch where you want Bunny to fly his sleigh, and tap the buttons to drop eggs!
– Addictively simple gameplay, that gets progressively harder and more complicated the further you get.
– Original versions of your favourite spring classics!
– GameCenter leaderboards and achievements.
It's fun, addictive, and full of crazy, Easter cheer! Play it!
Reviews From The AppStore
Loads of fast-paced fun! It had me giggling like a kid.

Zoo-plankton
This is pretty fast paced for an old bird. I love it!

Oldbirdwithclass
Ha Ha! The Easter Bunny with his sleigh and "reindeer" ducks! Drop colored eggs onto the ground as he flies by. This game is fun because the scenes keep changing and it becomes progressively more difficult.

Carolyn42297
I love it!!!
Hilarious that the Easter Bunny is mad as hell!

Era050307