Bunny Fingers! 3D Augmented Rabbit Reality
No need to wonder if the Easter Bunny exists! You're surrounded by bunnies at all times, you just can't see them! Til now!!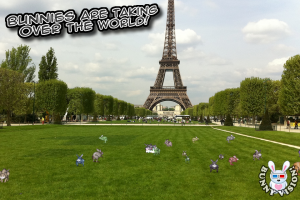 Bunny Fingers! is like 2 apps in 1!
Use virtual reality and look around through your iPhone, iPod or iPad to see all the magic bunnies hopping around you at all times! You may only see a few at first, but don't worry! They breed like… well… rabbits! Soon you'll be totally surrounded by hopping bunnies!
YOU HAVE TO TRY IT TO BELIEVE IT! Take photos of your friends and family surrounded by bunnies and post them directly to FaceBook! Point to the ground where you want the bunnies to go! It's fun!
Or, select any image for the bunnies to hop around on, leaving footprints as they go! They'll follow your finger! Use any image you like, freak out your friends by fooling them into thinking your phone screen is infest with bunnies!
(Augmented reality mode requires iPhone4/4S, iPod 4th Gen, iPad2 or higher. All other devices will still be able to use Bunny Fingers to add bunnies to have bunnies hop on your own images!)