Butterfly Fingers! with Augmented Reality
Relax as beautifully realistic, 3D butterflies flutter all around your screen with Butterfly Fingers!
Butterfly Fingers lets you carry a flock of butterflies in your pocket! Hold your finger on the screen to attract them, they follow you! They'll fly around any image you like (be creative!!), or you can activate Augmented Reality mode and actually see butterflies flying around your world as if they're really there!! You have to see it to believe it!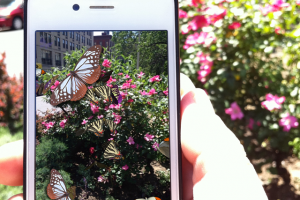 Features
- Realistic 3D butterflies!
– Touch the screen to attract butterflies to your finger!
– AUGMENTED REALITY! Watch butterflies fly all around you! Look thru your camera and pan around your world, they're everywhere! (Requires a device with a camera)
– Select any image! See butterflies land on your own photos and screens! Be creative!
– Shadows! Butterflies will cast realistic shadows as they fly on your images. The shadows even move when you move your device!
– Clock option so you can simply relax and watch your butterflies as time goes by!