My Dragons! Dragon Detector + Virtual Toy Dragon for iPhone & iPad
TURN YOUR iPHONE/iPOD/iPAD INTO A REAL 3D DRAGON!! Lift it to fly, put down to land, push to walk!! It responds to your movements! And tap to breathe fire!!
There are dragons all around you!! And now you can see them! AND control them!!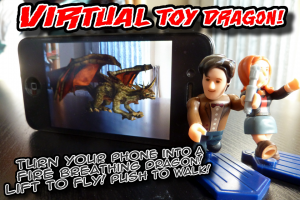 2 great Dragons apps in one!
- A very useful Dragon Detector, to help see all the fire breathing dragons flying around you right now! Try it and see!!
– A Virtual Toy Dragon! Turn your iDevice into your very own fierce pet dragon! Try and train your dragon! Put it on a flat surface to land, push it to walk! Pick it up to make him fly! Fly forward, and backwards, or just hover! Tap to make your dragon breath fire!!
Features amazing 3D graphics, augmented reality dragons, and surround sound effects!
Try it for yourself! It's like no other app you've seen before!
Happy Year of the Dragon!!
(Requires: iPhone 4, iPhone 4S, iPod 4th Gen, iPad2, iPad 3rd Gen or higher)
Reviews From The AppStore
I love dragons and now they're actually here (sort of)! I recommend you get this app. It is wonderful.

Nan2000nov
Simply amazing!
This has to be the best free app of all time. So glad I downloaded it!

-Gawain-