Kitten Fingers! with Augmented Reality Kitty Cats for iPhone & iPad
Kitten Fingers! gives you a bunch of cute cartoon kittens to play with, right in your pocket!! But better yet, it puts them all around you, all the time!!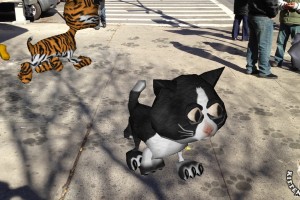 Seriously cute.
Using innovative Augmented Reality like you've never seen before, Kitten Fingers puts kitty cats all around you, in the real world! YOU HAVE TO SEE IT TO BELIEVE IT! Hold your phone like you're taking a picture and look around, kittens are everywhere!!
Hold your finger on the screen to attract them! Hear them meow! See them play with balls of yarn! Take photos of them in your world and send them straight to FaceBook!
Or, you can select any picture for your cats to run and play on, leaving footprints as they go! They'll follow your finger! Use any image you like, freak out your friends by fooling them into thinking your phone screen has been taken over by kitties!
(Requires iPhone 4, iPhone 4S, iPhone 5, iPod 4th Gen or higher, iPad2, new iPad or higher)