Santa In The City 3D Christmas Game + Countdown!
Take the reigns and fly with Santa through a highly detailed 3D city, and help him collect letters from kids in time for Christmas! That's right, Santa needs YOUR help! YOU FLY THE SLEIGH! And it's all in amazing real-time 3D!
Santa in the City is more than just a game, more than just an amazing, real-time 3D display, more than just a clock, and more than just a countdown to Christmas! Santa in the City is all these things and more!! Merry Christmas!!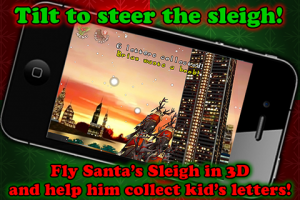 Features
- FLY THE SLEIGH! Sure you can just watch Santa fly around your city, but you can also take the reigns and weave around skyscrapers yourself! Tap the Ho! Ho! Ho! button if you want to spread some cheer! And don't worry, the reindeer will make sure you don't crash!
- 3 DIFFERENT GAME MODES! Be Santa as you fly the sleigh in 3 different modes: Free Flight lets you explore on your own, or you can collect letters to Santa hidden around the city and find out what kids want for Christmas, or you can play against the clock! How many letters can you collect before time runs out?
- COUNTDOWN TO CHRISTMAS DAY! Watch the seconds tick away with the countdown mode as you watch Santa fly through the city. The countdown keeps track of not only seconds, minutes, hours, and days, but also how many more sleeps til Christmas, and more!
- Full real-time 3D graphics that'll blow any elf's socks off and show off the power of your iPhone, iPod or iPad like no other Christmas app!
- Over 40 Christmas tunes to help get you in the spirit of the holidays!
- FULLY CUSTOMIZABLE OPTIONS! Choose how heavy the snow is, how long the sleigh trail is, how loud the music is, you can even choose between different skies above the city, clock options, and more!
- Like a screen saver for your iPhone / iPad. A great Christmas display while it's charging, and a nice holiday night light to boot!
And it works in any orientation!
- Got a suggestion? Feedback? Christmas cookie recipe?? Email us!! We can't see all the reviews on the App Store so the only way to be sure you're heard is to email, and we want to hear from you! Visit us at www.UselessiPhoneStuff.com
This app uses high detailed 3D graphics, so it'll only run on iPod 3rd Gen, iPhone 3GS, iPhone 4, or iPad.
MERRY CHRISTMAS!